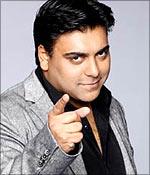 For everyone that knows me well, you know that I absolutely adore Ram Kapoor. Yes, he's that overweight guy that all my Twitter
dosts
always pokes fun at. You know who you tweeps are. I've been crushing over Ram Kapoor since his Ghar Ek Mandir days. It deepened during Kasam Se and furthered when he played big
bhai
to Rakhi Sawant during her Swayamwar. But it has reached its all time high right now as he plays Mr. Ram Kapoor in Bade Ache Lagte Hai. You can call it an obsession or an infatuation; I call it sheer love for the sweetest, cutest man on Hindi television who happens to bear an uncanny resemblance in every which way, to my favorite Uncle. But because everyone cannot fathom, understand or comprehend my
ishq, pyar, mohabbat
for Mr. Kapoor, here are five reasons why.
5) Ram Ki Baatein
There are so few men on the telly who speak Hindi as well as they do English. In both languages, Ram Kapoor is never wrong in grammar, pronunciation and his accent is pretty gosh darn hot!
4) Ram Ki Adayein…Uff!
Ekta Kapoor, whom I adore by the way, happens to put Ram in a number of rather odd situations vis-à-vis Bade Ache Lagte Hai. But the manner in which Ram emotes, expresses and reacts literally makes me go
haiiiiiiii
.
3) Ram Ki Talent
(too much confusion over the Hindi word for 'talent')
Unknown to most people, Ram Kapoor is pretty darn talented. Yeah, so he can do the serial thing really well, but I loved him as the obnoxious fool in Monsoon Wedding and then as the awesome uncle in Udaan. Oh, and he can dance too!
2) Ram Ki Muskarahat
Ram Kapoor, all you have to do is smile and basically, my day is made. Not only is tres sexy, but mucho cute. There's a slight cheekiness to his smile which makes it even more endearing.
1) Ram Ke Motapaan
He's fat and what? Or rather so what! Ram Kapoor makes fat look sexy. And he is the sexiest man on Hindi television.
So he played a rather
tharki
character in Ek Main Aur Ek Tu and it looks like he will be doing a repeat in Agent Vinod, but even then, I'll take him.