Screw the open letters; that is so last month. This is an outright SRK bashing. I'm really not a fan of King Khan and I have no qualms in saying it. In fact, the only reason I watch his films is because I am a sadist; I look for reasons to hate on Shah Rukh Khan. I can count the number of SRK films I liked—Swades, Chak De! India and fine, I'll even grant him Veer Zaara. And I'm not talking about old school SRK; he died ages ago. We'll never see the Raj in DDLJ ever again so don't count on it. But why does he choose to be such a bloody
gaada
? Like seriously, why? The last time I was this pissed off at SRK was after I watched one disaster of a film better known as Rab Ne Bana Di Jodi. I literally sat in complete shock when I saw SRK switch between being foolish as part the nerdy light dude and even more foolish as the dancing
garagewallah
And now, after I watch Ra.One, over a week late, I feel a sense of déjà vu falling over me. But before I go off about the film, here's what the film's blurb reads when you look it up:
A father trying hard to 'fit-in' in his son's badass world. A son trying hard to 'dude-up' his dad from 'aiiiyyyo' to 'Yo!' And a mother lost in translation between her husband's 'ingeva' and her son's 'inn'it!' While Shekhar was trying every trick in the book to woo his son, get 'dude-ified' and 'up his coolness quotient' his son had given up on him.
Can I barf now? All of a sudden, I am that angry girl all over again who cannot fathom what the frak Ra.One was about. But why am I so surprised? I knew he'd kill it with Ra.One. I knew it would be a piece of crap. I knew I'd be sitting and cursing myself out because as usual SRK would make something over the top that would as usual, not make sense.
See, I have no issues with experimental cinema. In fact, I applaud it. Variety is the spice of life and all that jazz, but for heaven's sake, please make sense. Watching Ra.One proved to be the most daunting, boring, infuriating experiences of 2011. However, I'm going to pull an SRK on you and do something that is expected but not really. See, you expect me to hate on SRK and Ra.One. But since a certain 'someone' (you know who you are) insists that I should not be a SRK hater; here are all the reasons to watch Ra.One.
Bebo's Chammak Challo chiffon sari
. She herself is oomph personified but add a sexy red sari to Bebo, and you pretty much have a number one reason to watch Ra.One. Of course, the song too is pretty darn cool, kudos Akon, but really it's Kareena Kapoor's
latkas
and
jhatkas
that really make you feel like you've got your money's worth. Can't say the same about your time though.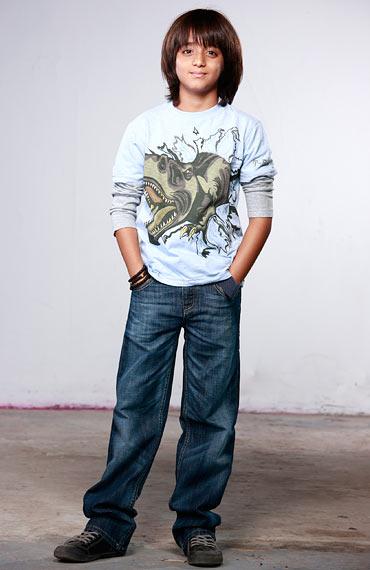 The kid's hair
. I understand that young boys like the Bieber inspired do. Apparently, it's in. And the reason you should watch Ra.One is because besides being slightly annoying, the kid in the film is basically India's answer to Justin Bieber. Well, not sure if he can sing, but he is sporting the look for sure. I, however, couldn't stop thinking about how badly I wanted to chop his long locks. Alternatively, he could use some gel to work some pretty cool styles. A Mohawk even.
Raj-Ni
. When the real king comes on screen, then ain't no body gonna look at any G.One aka SRK. Even though he was barely on for more than 2.5 seconds, Rajni ruled and rocked.
Dahi-Chowmein
. I've never heard of that combination coming together. Very Chandni Chowk to China inspired if I may say so, but this is yet another reason to watch Ra.One. While initially fusing noodles and curd would sound rather unappetizing, I think SRK may actually be onto something here. Worth a try, no?
Arjun in 10
. Thank your lucky stars cause all you get of Arjun Rampal is a mere ten minutes.But then again, that is ten solid minutes; painful minutes. And in the climax you are treated to ten Ra.One's, i.e. 10 Arjun Rampals. But
fikaar
not, it's better than a whole film with Rampal as the main hero. As for all those girls who couldn't stop gushing over how "hot" he looked, I'm sorry but I beg to differ. I'll take a bald Anupam Kher over a
taklu
Rampal anyday.
The Game Over sign
. After the torture, the Game Over sign is an indication that the end is near. Praise the lord.
Tum Bin Effect
. And the last reason to watch Ra.One is because you'll appreciate Anubhav Sinha's Tum Bin; if you didn't already. It was a rona dona film, yes. But it's a better film than Ra.One, I'll tell you that.
Oh and while we're at it, just a quick piece of FYI. SRK or rather Anubhav Sinha, has no idea what a superhero is. Superman, Batman, Iron Man all had one factor in common: they were regular people. It's only when terror struck that they changed avatars and became their titled superhero. Ra.One was not a real person and thus, he is a Robot. He even displayed robotic tendencies! So how on earth then is this a superhero flick? No, tell me please.
As for SRK, you haven't seen the end of him or his Ra.One series. From the looks of it, we will be hit with a second part which he will promote bigger and better than his first part; which we'll watch and yes, I'll find reasons to watch that one too.
Stars:
Not.Even.One