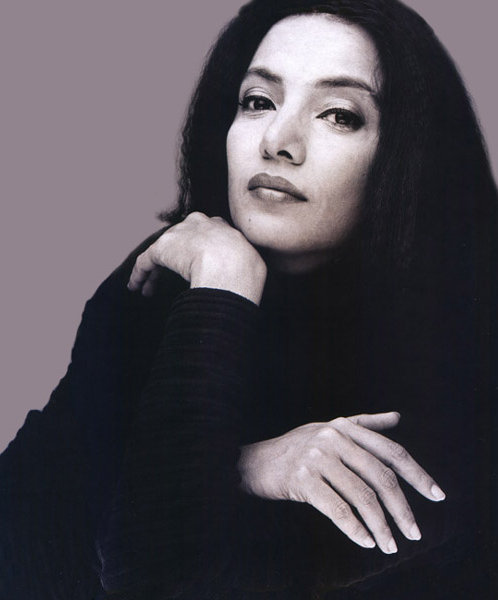 A renowned actress, social activist, devoted mother and wife, Azmi proves that you can do it all without losing yourself in the process.

She is a woman who has gone against all odds to create a name for herself among the plethora of highly respected, renowned and popular women in India. The daughter of a popular poet father and versatile '50s stage actress mother, wife to a top music lyricist, step-mother to a pair of top notch movie directors, she is surrounded by talent, yet attains her own uniqueness. Shabana Azmi, an actress in controversial and mainstream movies, social activist and politician, clearly has an endless list of accomplishments. Azmi has defined the Indian woman and is an inspiration to women globally. She has influenced Indian culture in many ways, generating appreciation and curiosity for a modern and traditional India by joining well-known political associations and working closely with international social organizations which caters to assisting minorities and helpless women. She has been able to voice her opinions, as well as demonstrate her "Indian-ness" as an active citizen and initiate a great amount of interest in South-East Asia.

As a well-known actress, her initial plunge into social work was inevitably seen as a publicity stunt, but Azmi used her name to her —by creating a niche for herself as a social activist who worked from the ground up with a deep-rooted desire to actually make a difference. Locally, she is viewed as a woman with a purpose and direction in her mission as she attempts to shorten the bridge between the rich and poor, educate rural folk on the birth control while creating awareness of the increasing Indian population, and helping women in distress, her list of "things to do" seems endless as she is continually finding a cause to fight for. Among her accomplishments is the relationship she developed with slum dwellers who were denied rights while their huts were being torn down so multimillion-dollar luxury residential buildings could be built. Rather than being a high-strung celebrity, she chose to remain in the trenches and actually lived in the slums for a week. She continued to show her dedication to a struggle she truly believed was worth fighting for by battling against the government and being the voice for those that would not be heard. In representing the people as their advocate, she created enough awareness to eventually force the government to give them their entitled civil liberties as citizens. Her efforts results in over 30,000 new homes for the slum dwellers funded by the local government.

She continued her quest for social activism and after the 1993 Mumbai riots, she became a critic of religious extremism condemning both Muslim and Hindu radicals. This generated heated discussion among both communities as they questioned her religion and citizenship as a Muslim living in modern day India. Despite the questioning eyes, she continued to help the victims of the riots irrespective of race or religion. Eight years later, after the disastrous 9-11 attacks, she was quick to encourage and support the destruction of terrorism worldwide and along with other societal groups insisted on the elimination of terrorism in all forms. Through her various social endeavors, and many accomplishments, TIME Magazine crowned Azmi as an Asian hero, naming her a "crusader for injustice."

Azmi has demonstrated deep compassion for those affected by the HIV disease. Perhaps her greatest accomplishment is her continuous work with AIDS patients. She produced and acted in a film named "Positive," which depicted discrimination against AIDS patients as she embraced young victims of the disease who were shunned by society. The activist asked for acceptance and love on behalf of these children. Soon after, she was appointed by the UNFPA (United Nations Population Fund) as a Goodwill Ambassador and has given numerous speeches regarding the social discrimination, prevention and awareness of AIDS. She is revered as a saint to the underprivileged in rural areas where the lack of education has left people completely unaware of the epidemic.

Despite all her achievements, she too has had her share of controversies within her acting career. She has always been a part adventurous, diverse and often risqué movies, which in some instances have produced riots and violence among certain extremist groups. Her depiction in the movie "Fire" of a lonely housewife, who falls in love with her neglected sister-in-law, was frowned upon as it focused the normally hush-hush topic of lesbianism in India. She has also made her mark in Hollywood in the critically-acclaimed film "City of Joy," which addressed various taboo topics such as inter-racial marriages and promiscuity in young girls.
For reasons besides the heated debate surrounding her roles on the silver screen, Azmi has her share of non-fans. Many Muslim and Hindu radicals feel that her ideals are too modern and her constant "flare-ups" are nothing but publicity stunts. In her opinion, the problem is that she "can never keep quiet." The 58-year-old classic beauty is determined to keep the peace as a Muslim in India as she keeps modern thoughts on her tongue and proudly displays her Indian heritage to the world."I am a daughter, a wife, a mother, a woman, an actress, an Indian and a Muslim. "Each of those identities is important to me," she says. Through all her obstacles, Azmi has remained beautiful, poised, and —never being afraid to take a stance and tell it like it is…and we hope she never stops and continues the fight for justice.