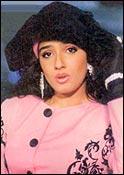 If Madhuri Dixit is the
Dhak Dhak
Girl, the Raveena Tandon has to be the
Tu Cheez
Gal. In the late 90's, every man I knew loved Raveena. And I mean everyone. My father, my best friend, my brother included. If you were mesmerized by her in Tu Cheez, she hit an all time hot when she danced in a sexy yellow sari to one rain number better known as
Tip Tip Barsa Pani
. Every man in India drooled when her
pallau
dropped in the song. Every man in India also thought of her when monsoon came around that year. And every time an abandoned building appeared, they all looked up to the top floor, fantasies playing in their minds. She was a sizzler. But there was more to her than just being one hottie. She was a fab actress. Overtime, she evolved from the actress who was needed for eye candy to a partaking in ensemble casts and eventually into a powerhouse actor who blew minds away in
Daman
for which she won the National Award. And she's worked with every Khan in the industry - apparently that's some big deal or so I'm told.
My reason for admiring the actress is far more emotional. I adore her because she reminds me of a simpler time. The 90's was generally a much more unstyled place in Bollywood. Yellow pants, over-teased hair and big rexon belts were cool. Raveena was all about it. And she wore it with such grace. You believed it was gosh darn fashionable. And then of course, her nonstop quarreling with Karisma Kapoor. Actresses today are all about verbal spats. Yes, Kapoor and Tandon, who worked together in a few films, apparently indulged in heated arguments, but these girls meant business. One report suggests they actually behaved like juvenile delinquents, i.e. cat fight! The actresses were feistier and more daring back then. Then there was her affairs. They were nonstop and never ending, it seemed. But because she's such an awesome trooper, we saw the actress slide right past them; like fresh
makhan
. Raveena Tandon was real. You believed she could live next door, study at your college, eat at your daaba. And that trait hasn't changed.
So now she's back as a
Chandigarh di Star
which is rocking my world. It's not because I think Raveena's
thumka
'
s
(these are the original ones) are off the freakin' hook (take that Munni, Sheila and even Shalu!), but because she's back in full power! She hasn't made a comeback as some skinny undernourished wannabe. Nah, nah. Sexy pout in tact, Tandon is here to stay. Watch out ladies, it looks like this '
cheez
' is about to 'tip' the youngin's over.
Bachke rehna!