Facebook
, who wants to date a guy who can play the guitar, that I officially want to marry one that plays cricket. In all honesty, my immense and intense love for cricket is not new. In fact, I've always loved the sport. My feelings for it however, had really been repressed. But that's in the past, I'm all about the sport once again. Okay so getting back to marrying a cricketer, he doesn't necessarily have to be a professional cricketer but basically one who loves the sport as much as I do and plays pretty gosh darn well. In light of this new found realization, I sat down to think about all my favorite cricketers. The following men have won my heart for various reasons. Hey, I'm not one of those girls who swoon over cricketers who are just absolutely cute and how -
na
ji
na
! Play good cricket along with being cute works even better for me. Okay so the gentlemen who have bowled me over and how, here we go.
Bowled Middle Stump:

Sachin

Tendulkar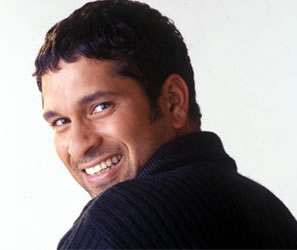 If anyone in the Indian team knows how to make my heart beat, it is
Sachin
Tendulkar
. Besides being the best in the world, he also happens to own an amazing personality, a humble heart and a cutesy smile. But what really works for me is some of his best shots. When he hits his classic cover drives, I find my heart pacing until the ball reaches the boundary line. The maestro's late cuts, straight drives and his cut shots make me want to collapse. And it's not because it's a great shot, but the manner in which he places the ball along with immense skill just works wonders for me. Add to that the fact that he bowls one hell of a
legspin
, and voila, the master blaster can blow you away! A great father and a fabulous husband,
Sachin
really is one helluva dude.
Caught at Slip:

Rahul

Dravid
Rahul
Dravid
ended the day he decided to marry.
Hmph
. I've always had a soft spot for "The Great Indian Wall". His genuineness and down to earth
temperament
won me over the first time I saw
Dravid
play. While he does take some time to set in, when he's completely in the groove, he is hard to destruct.
Dravid
is known for being one the most technically perfect cricketers that has graced Indian cricket. His pull shots and cover drives are beautifully timed while his fielding at the slips, he rarely failed to miss a catch. And with a smile like that, he definitely does have his share of share of girls running after him. Myself included!
LBW:

Kapil

Dev
Kapil
Dev. My fondness for him began after I realized that the cricketer bared an uncanny resemblance to my late grandfather. And it didn't end there. Their personalities and incredibly humble nature matched too. When talking about his skill, well,
jitni

tareef

karu

,

utni

kaam

hai
. An all rounder, a fabulous successful captain and a patriot, Dev
saab
is one man who literally is cricket personified. He exuberates "The
Gentlemen's
Game" with his polite nature and simplicity.
Googly:

Virat

Kohli
Kohli
very recently, so really, my admiration for him is rather new. However, I really do believe this lad is going far. His fielding is always top notch which is great as he sets high standards for the rest of the team to keep to par and he performed pretty well at every World Cup match this tournament. But more than anything, he's
superly
duperly
utterly
butterly
cute. Works for me!
Caught Behind Wicket:

Mahendra

Singh

Dhoni
Dhoni
, India's most successful captain, is one guy who took time to win me over. Everyone was screaming about
Dhoni
and I would simply yawn. However, his quiet but sly nature wasn't one to be taken for granted. Whether he's captaining behind the stumps or batting on the field, he knows his place in the team and is all about motivating the team. His choice of pronouns must be noted. It is rare that he uses "I" or "him"; it's always "we" and "us". Good call! His captains innings at the 2011 World Cup final did it for me.
Dhoni
won me over and I was out!
Future
pati
dev
, wherever you are, whoever you are...are you taking notes?