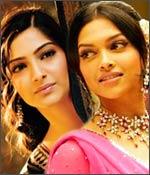 Mid-Day, my favorite tabloid/publication did this fab piece in which it put Sonam Kapoor and Deepika Padukone side-by-side and basically compared every aspect of their careers thus far. And as it turns out, Deepika was voted the better actress. Er... I think they both are equal...as bad! None of them show any promise if you ask me, and apparently, because I'm honest about how untalented as actress I find Sonam Kapoor, I have been deemed a Sonam Kapoor hater. But that's a different story. In the meantime, it was interesting to see both the ladies careers side-by-side especially since both of them started at the same time.
In terms of projects completed, Deepika reigns with seven films to her name while Sonam has only three. And Deepika even takes the cake with hit films; she has three (Om Shanti Om, Love Aaj Kal, Housefull) and Sonam has a mere one (I Hate Luv Storys). While Deepika is admired for her toned body, Sonam is looked up to for her keen style of sense and so on. Okay the article goes on to talk about more interesting comparisons in their careers like Banners, Khans they've worked with, endorsements, money they make, future projects, blah blah blah. But what was most fascinating to read was this:
Number of followers on Twitter:
Deepika: 277,968
Sonam: 161,448
And why that piece of information is a bit odd, is simply because Sonam fans are incredibly faithful to her and can't hear a word against her -- believe me, I know. But at the same time, you'd think they would con and brainwash Deepika fans into boycotting her. Get on it Sonam fans!
Oh also, some SRK news for you guys! While on vacation in South Africa, he had the pleasure of meeting the very beautiful Waka Waka Shakira! Check out the pictures he posted on Twitter.
Source:
Mid-Day