In the past, I've done a number of countdowns on my personal blog which of course, look at films that I particularly loved throughout XYZ year. But now, with Roshni [Live] which is dedicated to Hindi cinema, it makes more sense to countdown my favorite albums and films of the year. 2010 has been a fabulous year for music in Hindi cinema which means I have heaps to countdown. While most countdowns will give you the Top 10 and so on, I like to just call 'em out like I see them especially if I like them. My mother swears I have an ear for good music so I think I know what I'm talking about. Okay so the best of 2010 in no particular order; here we go!
My Name is Khan
The film may not figure in my top films but no one can doubt how phenomenal the music of the film is. Almost instantly, the music of My Name is Khan became one to must have on your I-Pod after you heard just the first tunes of Sajda, Tere Naina and Noorein Khuda. For the first time, a Karan Johar film didn't include a dancey number but an album that is melodious and deep in lyrics. My Name is Khan as a film was a bit eeks for me but the music is worthy of mention this year.
Raajneeti
For a political thriller, Raajneeti didn't house only patriotic music. In fact most of the music in the film happened to be situational. However, Morey Piya and Bheegi Si Bhaagi Si helped up the music value of the film with songs that were incredible hummable and how. Yes, it did house a couple dozen songs which were dedicated to the nation, but even those only helped the film.
Housefull
Sajid Khan is a fool for making films which have little to no story. So let's forget Housefull as a film. But you cannot deny the music. From Oh Girl, You're Mine to Papa Jag Jayega and even the Dhanno remix were all funtoosh songs which worked in favor of the film. So while the film was incredibly lame and how, it was the music which gave the film some credibility.
Raavan
A.R. Rahman at his best is Raavan. He really created quite a soulful soundtrack in Raavan. My personal favorite happens to be Ranjha Ranjha but the rest of the soundtrack should really not be ignored. In a film which really depended on some epic music to bind the story, Rahman delivers and how.

I Hate Luv Storys
There is not a single song in the album of I Hate Luv Storys that I don't like. Even the remixes, which I normally ignore, rock in this Vishal-Shekhar hit album. And while they were done close to zero justice with choreography in the film, you cannot deny that IHLS happens to be one the most complete albums of the year. Whether it's the rocking title song or the romantic Sadka Kiya or even the soulful Bin Tere, it's just one hit after another!
Aisha
Amit Trivedi is one music director to watch out for. Aisha in my opinion, is Sonam Kapoor at her very worst BUT Amit Trivedi at his best. Gal Mithi speaks for itself but the title track, Sham and Lehrein is amazing work. Contemporary and yet deep, Aisha managed to really become a favorite in my books musicwise. Even the Spanish influences Behke and the wannabe-sounding By The Way eventually caught on with me! Loverrrrly!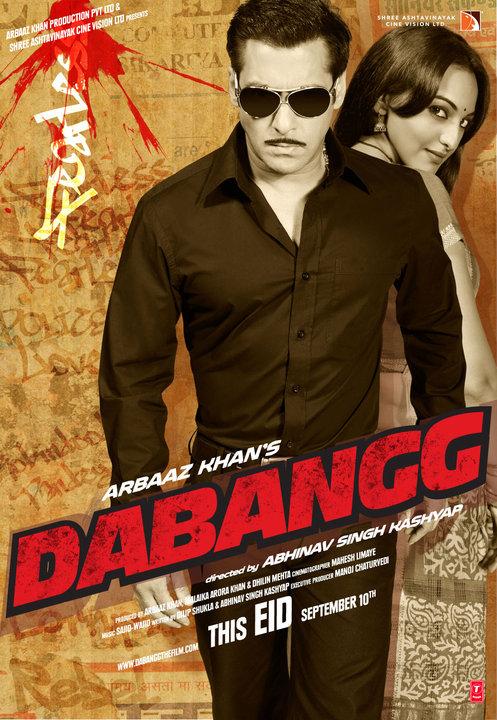 Dabangg
Sajid-Wajid gave us an album that housed perhaps the most rustic and melodious song of the year Tere Mast Mast Do Nain. But really Dabangg is much more than that. The album also contains the fun and masti-filled Humka Peeni Hai and Chori Kiya Re Jiya which unfortunately, in my opinion, really didn't get their dues. And then, Dabangg gave us Lalit Pandit's (of Jatin-Lalit fame) Munni Badnaam. Need I say more?
Yet again, another one of my personal top faves. Anjaana Anjaani is one helluva album simply because Vishal-Shekhar displayed that they are much more than two dudes who can add English lyrics to a song. Where do I begin with this album? I simply adore each and every song in this album because it's catchy, soulful, meaningful and yet fun. On a side note, this is one album that really fit the bill in terms of the film which I personally adored!

Guzaarish
I don't LOVE the album of Guzaarish but it is a good album. Sanjay Leela Bhansali has had better music in his films and in comparison, Guzaarish is average. Udi is fabulous though along with Thodi Si in which Kunal Ganjawala does a fine job. I liked the title track too but in all honesty, it's the lyrics which really cut it in Guzaarish. They are meaningful and so deep.
The end of the year gave me Band Baaja Baaraat and made me uber super extremely happy! Salim-Sulaiman prove yet again they know their stuff with this fabulous album. You can dance to Ainvayi Ainvayi, love in Aadha Ishq, shake a leg with Dum Dum, sing with Tarkebein and cry with MitraSunidhi in BBB!
And...
Once Upon A Time
: The album had two great songs: Pee Loon and Tum Jo Aaye! Brilliant songs.
Dulha Mil Gaya
: The dated film was a serious dud but the music is pretty good. A good listen - I like!
Pyaar Impossible
: I loved Alisha and You And Me.
Ishqiya
: Ibn-Batuta grew on me but Dil Toh Bachcha Hai Ji is awesome!
Toh Baat Pakki
: Sucker for wedding songs so adored Dil Le Jaa.
Karthik Calling Karthik
: Uff Teri Ada. Need I say more?
Pankh
: Random film but Ji Jala is addictive.
Jaane Kahan Se Aayi Hai
: Title song and that's it!
Prince
: Please don't get me started on this movie but Tere Liye and Oh Mere Khuda are must mentions.
Badmaash Company
: It grew on me so it's a nice fun listen...occasionally.
Krantiveer
: Sadly the movie sucked but the birthday track (Chote it's your Birthday) is heaps of fun!
Tere Bin Laden
: Ullu Da Patha!
Udaan
: I adored this film and the music is fantastic if you're a soulful album lover,
Peepli Live
: Just Menghayin Dayein.
Golmaal 3
: Sadly, sad music with exception of Desi Kali and the title track.
Break Ke Baad
: Dooriyan and Adhoore but that's it.
Tees Maar Khan
: Not exactly Vishal-Shekhar at their best. Listen to Sheila Ki Jawani, title track and Wallah.
Isi Life Mein
: I hear the soundtrack is cute!
Fun year! But 2011 will be bigger and better...I promise! In the coming week, check out my favorite films of 2010.